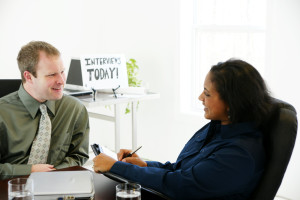 Interviewers love to start the conversation with "tell me a little bit about yourself." I count it as the # 1 interview question.  It can be intimidating to talk about yourself immediately!
It is also a great opportunity for you to begin strong and shine. Here's a few tips on how to respond to this seemingly small talk inquiry.
Be prepared.  Write out your response in advance so it does not seem awkward when you start talking.  Just the simple act of writing out your answer will help you remember what you want to say, and you won't fumble at the beginning of the interview.
Strengths and skills.  Highlight 4-5 strengths and skills that would be valuable to the company in under two minutes.  This means including the strengths and skills you see in the actual job description.  Strengths like strategic thinking, adaptability, analytical, communication are strengths that companies often are looking for.  Your skills can be specific to the job, e.g. medical coding, excel spreadsheets, PowerPoint presentations, specific technology applications.  
Don't repeat resume.  Remember, they have your resume in front of them.  So, there is no need to think in bullet points through your resume.  There will be a time during the interview when you will be able to go into more detail about your work experience, explain any gaps, discuss military service, etc.
Focus.  Focus on your professional experience and minimize your personal information.  This sets off the interview on a professional level.  The interviewer may ask some personal questions later in the interview, but don't offer the personal information during this opening conversation.
Ask what else.  After you have done your summary, ask what else you could tell that would be helpful.  Let them take the lead at this point in asking questions and guiding the interview process.  There can be an awkward silence – just keep quiet and smile.  You have volleyed the ball into their court.
Simple, simple, simple. Don't overdo your response. You can lose your audience if you talk too much.  If you start to see their eyes glaze over, you know you are talking too much.
Practice, practice, practice!  Will you be nervous at your interview?  Of course, you will be.  Butterflies in your stomach are perfectly normal.  In fact, I firmly believe that if you aren't nervous, it means you don't really care.  You can practice in front of a mirror to get comfortable with the words.  Even better, find someone who can role play this with you and ask for feedback. Small tweaks as you practice can take your response from good to great.
Remember, most interviewers want you to succeed.  A firm handshake and looking them straight in the eye sets you up for success.  Then, be prepared to answer…"tell me a little about yourself."  Good luck with your interview.
I offer my clients a 90 minute mock interview and critique session which covers the Top 20 interview questions.  If you are in need of this valuable interview preparation, please contact me at 706.550.4161.
To Your Career Success,
Katie Weiser
© Katie Weiser, 2015. Unauthorized use and/or duplication of this material without express and written permission from this blog's author/owner is strictly prohibited. Excerpts and links may be used, provided that full and clear credit is given to Katie Weiser with appropriate and specific direction to the original content.