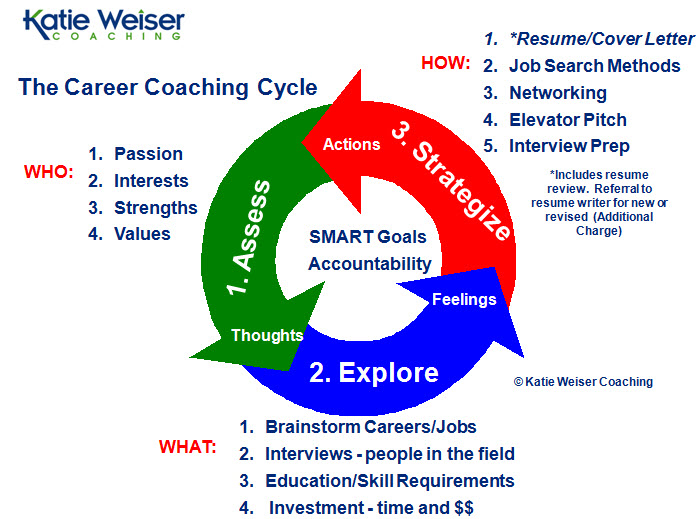 As a career coach, my clients come from a variety of backgrounds and experience. Therefore, your coaching experience will be highly personalized – tailored specifically to you. We will start with an initial dialogue to clearly define the issues or concerns you are currently experiencing.
We will review your short and long term goals and use these goals as a foundation to create a strategy for adapting to the change, making conscious choices and moving forward.
Coaching is done via the telephone or Skype. For those in the Augusta, GA metro area, in-person sessions are offered.

Perfect for New or Encore/Second Career
4-6 sixty minute sessions
Workbook with Assignments
Unlimited e-mail for additional support
Includes ALL three elements of the Career Coaching Cycle:
Assess, Explore and Strategize

Perfect for Specific Areas of the Career Coaching Cycle Only
1-3 sixty minute sessions
Helping you focus on one or two of the elements in the Career Coaching Cycle:
Assess, Explore or Strategize
OR
Just one segment , e.g.:
Strengthsfinder Assessment
Brainstorm Careers
Job Search Tips
Interview Preparation

Perfect for Career Cycle Decisions or In Need of a Leadership Mentor
Sixty minute sessions as needed
Helping you make informed choices
Helping you reach your full potential as a leader
Confidential dialogue with someone who has been there, done that